The 6th European Healthcare Design 2020 Congress has been rescheduled to 1-3 September 2020, following a 2-week consultation in response to the global public health emergency concerning the spread of the coronavirus (COVID-19).
Please click here for an Advisory note on the 2019-Novel Coronavirus (COVID-19) situation
The Preliminary Programme for the 6th European Healthcare Design 2020 Congress & Exhibition is now available.
Healthcare is an active participant in the climate change and environmental degradation damaging our planet. So, our objective in 2020 is clear: to construct a comprehensive narrative for sustainable design in the widest sense – health system redesign, architecture, landscape, funding models, scientific and digital technologies, products and infrastructure, along with good food, art, performance, and nature. In recognition of the urgent challenges that lay before us, the main plenary theme for European Healthcare Design 2020 will be healthcare 'At the Tipping Point: Designing for Population and Planetary Health'.
Healthcare is now the biggest 'industry' in the world and the single largest component in the economies of many developed countries. It's a voracious consumer of goods and services, producer of waste and generator of carbon. But if a physician's primary obligation is to 'do no harm', then we must accept that a population-based health system has environmental responsibilities that extend far beyond its delivery of care.
Governments and systems are addressing these with varying degrees of success but the scale of the environmental challenge suggests that programmes of incremental change are insufficient. A fundamental transformation in service models is required. This, in itself, carries significant risk because we know that prescriptive and top-down driven changes to complex systems have unintentional consequences, which are often more disruptive than the reform's primary objectives.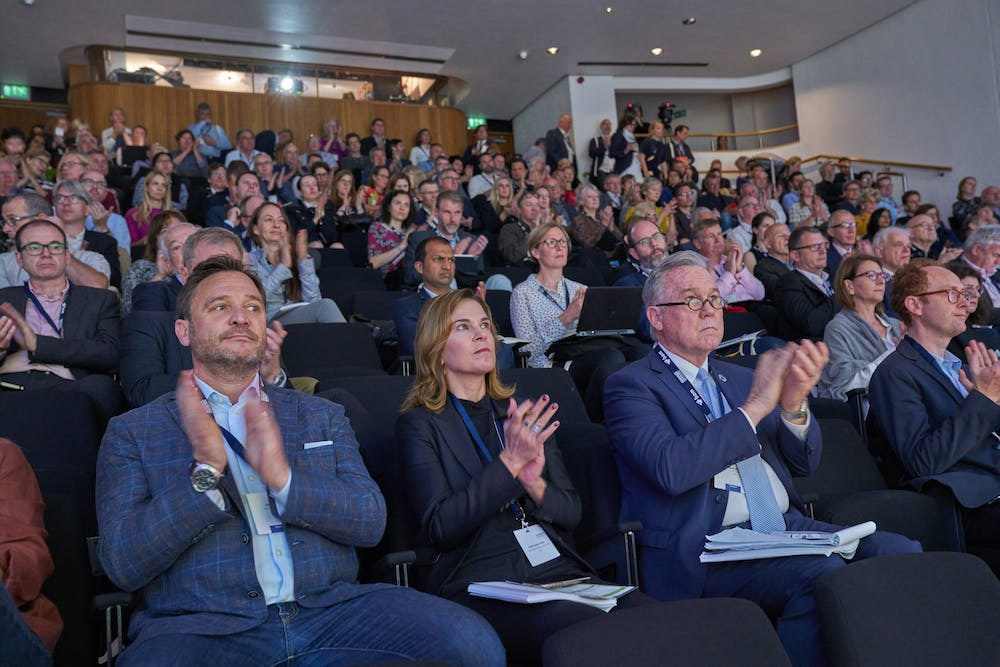 Organised by Architects for Health and Salus Global Knowledge Exchange, the European Healthcare Design Congress provides a vibrant forum for addressing these issues, bringing together clinicians, policy advisors, academics, architects, designers and artists. Now in our sixth year, we've grown into a worldwide virtual community that comes together once a year for two or three days at the Royal College of Physicians in central London.
Redesigning healthcare systems
The redesign of networks is the most important factor. Procurement and transport produce more than 75 per cent of the carbon emissions in healthcare systems, yet so much discussion is focused on the built environment, however important this may be.
The changes needed to improve environmental sustainability are much the same as those needed to deliver quality improvements and financial sustainability. Services need to be redesigned to shift care upstream and place greater emphasis on primary care, prevention and self-management.
Where are we making better use of digital technologies, developing more integrated forms of care, removing duplication and redundancy from care pathways, empowering patients, and moving care closer to home?
Where are we mitigating the worldwide shortage of human resources by nurturing settled employment and career advancement in systems, and how can AI and digital technology supplement or replace human resource?
How do we increase the resilience of services to environmental change while reducing the impact of services on the environment?
Digital connectivity is providing us with the structural framework that healthcare networks need to inform and empower staff and patients,and move them efficiently around the system.Alongside this, we need to understand what advances have been made in AI, pharma, robotics and algorithmic diagnosis. Which of these are making a real contribution to sustaining our systems and which are, as yet, illusory?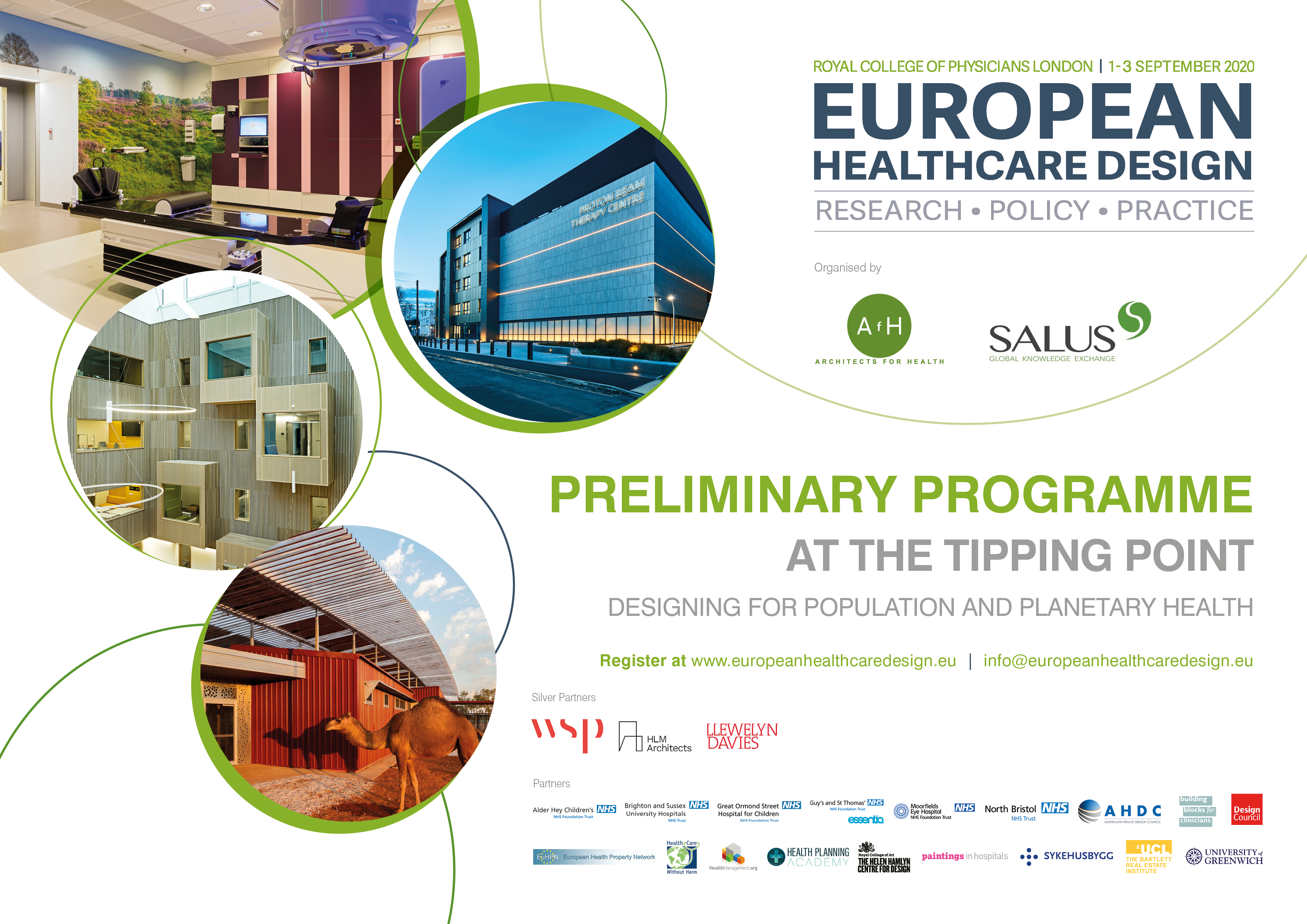 Redefining public health
The ability of population-based healthcare systems to achieve sustainability relies on a more dynamic integration of health and social care with housing, planning, transport and social support.
Tensions between personal freedoms and legislative intervention are intensifying in some areas but dissipating in many others, as citizens increasingly understand that they must exercise personal responsibilities within a wider framework of governmental action. Yet there is enormous disaffection with politics and politicians.
Healthcare projects will increasingly be part of wider mixed-use developments, which in turn will require mixed funding. Healthy towns and cities need stronger local government to co-ordinate development and organise more intelligent, transparent ways of using public and private financing.
From disposable to circular
The age of the disposable building has passed. If we adopt a circular economic model then any healthcare building should be capable of alternative future use and fulfil a greater role in the public realm. As high-street shops fall empty, their replacement with innovative social and healthcare centres may help sustain town centres
More extreme climates encourage innovative architecture, with buildings designed that are climate adaptable, very low- or zero-carbon, and energy efficient. What commercial and technical innovations are developing to reduce costs and improve quality? Active buildings can integrate renewable energy technologies for heat, power and transport as components of an active healthcare network and smart city. Can we combine standards for Passivhaus and lifetime homes with technological advancement to create a truly adaptable home? We've separated building and landscape design for too long; the future will see significant investment in greening our cities.
Online registration is now open – we look forward to welcoming you to London in September, and your contibution to the exchange of knowledge needed to construct this sustainable design narrative for healthcare.