The Call for Papers has been launched for the 10th European Healthcare Design Congress 2024, the plenary theme of which is 'Natural Intelligence: Creating self-learning health systems'.
The submissions process for abstracts has been extended until 15 December 2023. Next year's Congress will once again be held 'in person' at the Royal College of Physicians, London, on 10-12 June, and streamed online on SALUS TV to enable virtual delegates to watch and participate.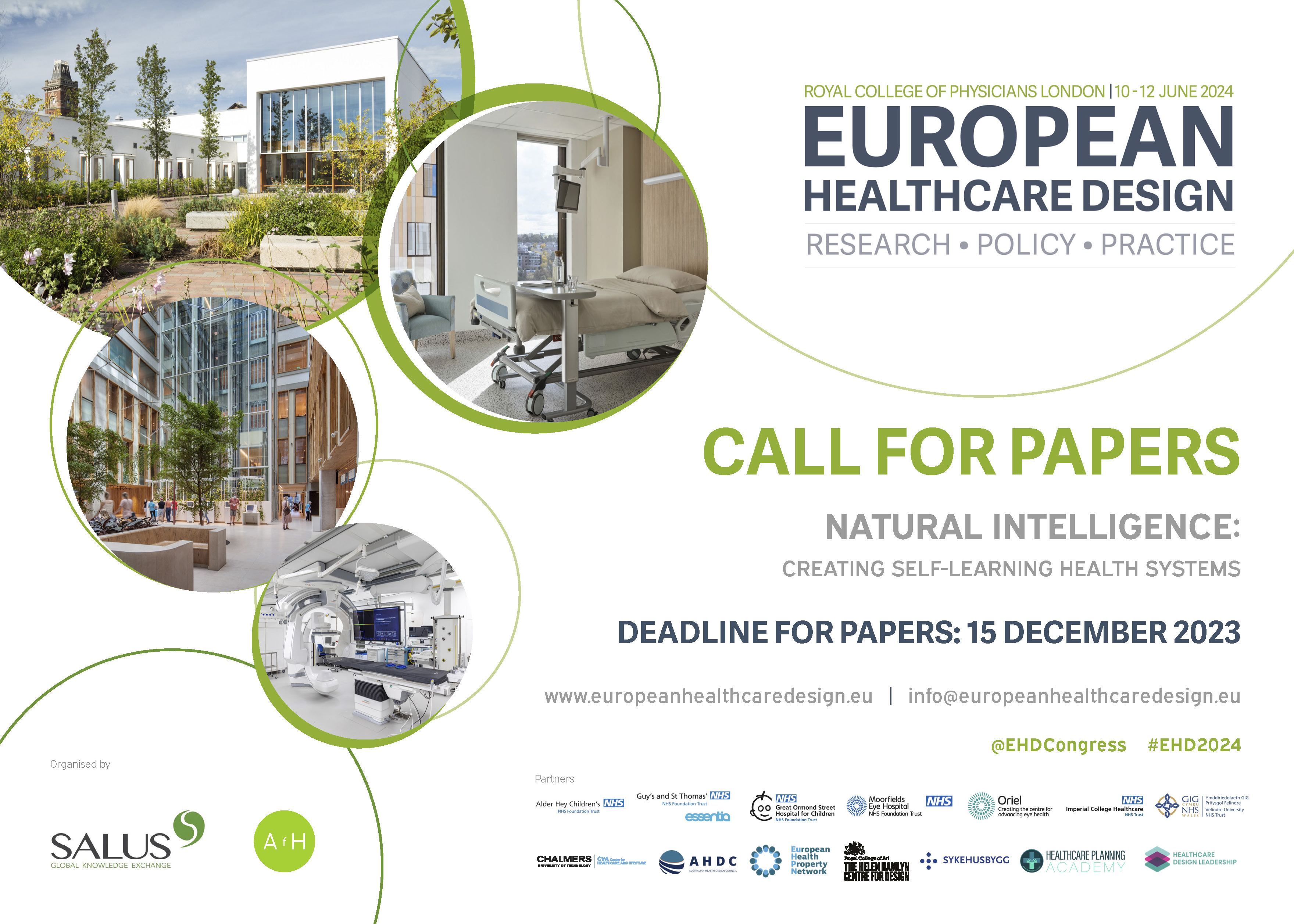 We're delighted to invite you to contribute to the exchange of knowledge needed to strengthen health system resilience by submitting abstracts on the following core themes:
Plenary theme

• Natural Intelligence: Creating self-learning health systems
Congress streams
Population health: Redesigning health systems and partnering to integrate care and foster healthy communities
Health planning and investment: New models of care that promote quality improvement and strengthen health system resilience
The intersection of clinical medicine and design: Optimising environments and spaces to support clinical service planning strategies
Science, technology & digital transformation: System-level adoption of digital health, AI, personalised medicine, and smart hospital innovations
Climate-smart healthcare: Applying circular economy principles and net-zero carbon strategies to services, infrastructure, and supply chains
Art & architecture: Humanistic environments that promote wellbeing, identity and dignity, support recovery, and empower patients
Tertiary care: Planning specialist services and infrastructure, including mental health services, cancer care, women and children services, and rehabilitation
Who should submit a paper and attend?
The European Healthcare Design Congress, Awards & Exhibition attracts the world's leading interdisciplinary thinkers, researchers and practitioners in the field, including:
Physicians
Healthcare executives
Estates/capital development
Nursing professionals
Commissioners
Health scientists
Service designers
Clinical managers
Architects and designers
Engineers and developers
Health planners
Occupational therapists
Psychologists
Economists
Papers addressing more than one of the Congress themes will be given preference. All abstracts should be submitted via the online submission form on this website. Abstract guidelines can be downloaded here.