To mark the launch of this year's programme, we hosted a free webinar focusing on the plenary theme of this year's congress: 'Creative destruction: Design innovation in the face of existential threats'.

The history books will pronounce 2020 a watershed year – a year when global society and its health systems, already strained in coping with chronic and lifestyle illnesses, were thrown into a prolonged and arduous battle against a new highly infectious disease.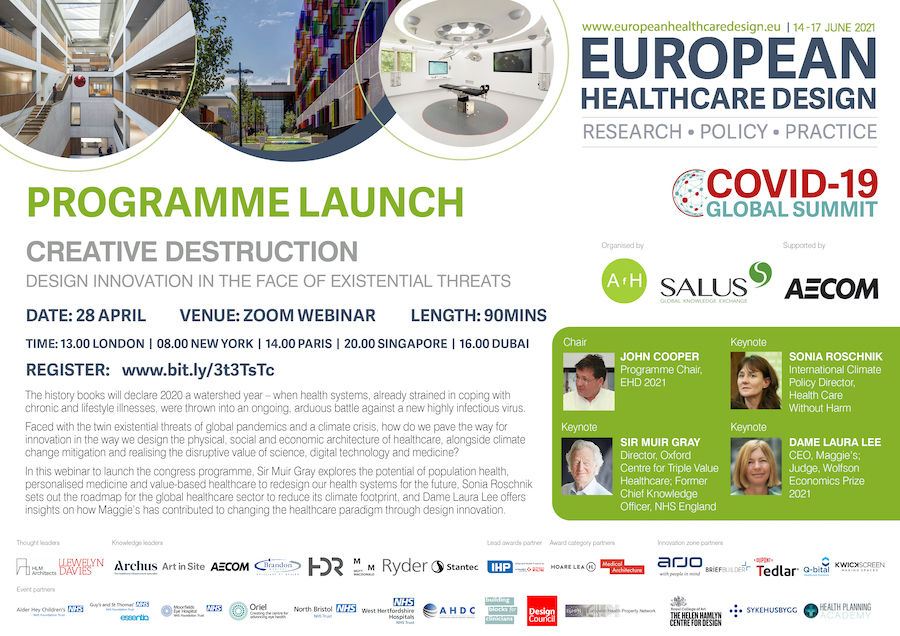 Faced with the twin existential threats of global pandemics and a climate crisis, how do we pave the way for innovation in the way we design the physical, social and economic architecture of healthcare, alongside climate change mitigation and realising the disruptive value of science, digital technology and medicine?

In this webinar to launch the programme for the 7th European Healthcare Design 2021 Congress, keynote speaker Sir Muir Gray explored the potential of population health, personalised medicine and value-based healthcare to redesign our health systems for the future. The former chief knowledge officer at NHS England, Sir Muir Gray is director of the Optimal Ageing Programme, executive director of the Oxford Centre for Triple Value Healthcare, and professor of knowledge management at the University of Oxford.

Sonia Roschnik, international climate policy director at Health Care Without Harm, set out the roadmap for the global healthcare sector to reduce its climate footprint. And Dame Laura Lee, chief executive of Maggie's and a judge for the 'Wolfson Economics Prize 2021: Planning and designing the hospital of the future', offered insights on how Maggie's has contributed to changing the healthcare paradigm through design innovation.

Organised by Architects for Health and SALUS Global Knowledge Exchange, this launch event was kindly supported by AECOM.
To view a recording of the webinar, click here.

Please note that this year's Congress is now set to take place on 14-17 June 2021 as a fully virtual event.