The impacts of climate change, a pandemic, active conflicts, economic volatility and inflation have laid bare global health inequalities, creating hunger, poverty, displacement and disease that are testing the resilience of our health systems and infrastructure.
The convergence of these forces is making the world a less predictable and more volatile place. Our political, social and economic systems and institutions, including our health systems need to be strengthened to create a buffer against this turbulence and sustain the services and infrastructures on which we depend.
A resilient and high-performing health and care system can be the tie that binds society and communities together. It can play a critical role to play at the intersection of politics, economics and culture to meet these global challenges and help to build the foundations for a healthier, more productive and socially cohesive society.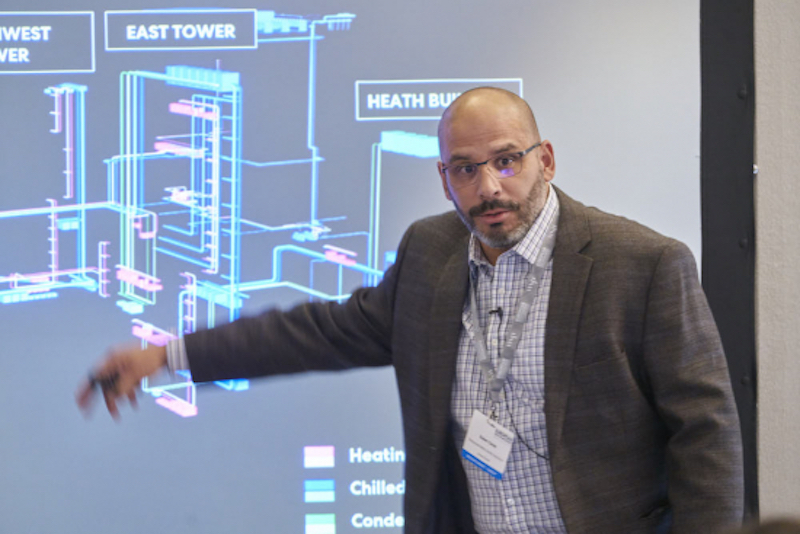 The existential challenges of climate change, war, economic crisis, pestilence, and food, water and energy security will require governments and healthcare systems to invest in a much greater reserve of already stressed human, physical and capital resources than have previously been planned for.
Have we applied a definition of health system performance and sustainability that is too narrow? Should we be measuring success through the prism of resilience – system, service and infrastructure planning and design that can sustain and develop our social, economic and cultural as well as physical structures.
The global workforce crisis in healthcare is centre stage. By 2030, the world will be short of 15 million health workers, with 43 million needed to achieve universal health coverage. But attracting and recruiting more health workers to join exhausted professions burdened mentally and physically from the pandemic, is only part – albeit a critical part – of the solution.
New models of care and advances in technology and the life sciences, from AI to personalised medicine, have the potential to transform both the quality, access and equity of care for more people in new settings closer to the patient, at the same time as improving the sustainability of supply chains and infrastructure.
A recent report by the All-Party Parliamentary Group on Global Health on the future roles of healthcare workers, 'Probable futures and radical possibilities' called for a transformation of health systems to support "most care [to be] delivered at home and in communities" with the role of health professionals changing and extending as "agents of change and curators of knowledge".
How can we design healthcare facilities to improve the quality of the workplace for clinical and non-clinical staff and accommodate these changing roles at every level of the healthcare estate – from the teaching hospital to the GP centre? Are the ways in which we design healthcare buildings, with a reliance on inward-facing stakeholder engagement and ageing databases, in need of review?
Rapid progress is now being made to embed low-carbon design and construction in some areas of the world, but global standards are required to address a global problem. Questions, too, remain over the definition of net zero, whether we should be measuring embodied or operational carbon and the standards required for how resources and materials are used efficiently over their design life.
As huge global consumers of energy, health systems are being hit hard by the threat to energy security and rapidly rising costs, bringing into sharp focus how the sector's carbon footprint can be reduced across the whole system. In the UK, a quarter of the NHS' carbon emissions is generated by the manufacture and distribution of pharmaceuticals. It may also seem simple to repurpose the pavilion hospitals of the 19th and early 20th centuries, but many of the hospitals we're now replacing are only 30-40 years old and are far more difficult to re-use.
Building the desperately needed capacity required across health and care systems will require visionary and strategic-level thinking to plan our health systems in a way that aligns and accelerates evolving professional roles to new, more radical service models of care across new settings and sustainable infrastructure connected at the heart of our cities and communities. Too often, siloed thinking and funding trump system-level strategies that join up workforce, service and infrastructure planning and design.
Each year, the Congress programme is developed within the context of the most pressing issues of the day, weaved into a framework through which the best examples of healthcare design and planning, including services, buildings, technology, products, landscape and art, are presented.
By joining up the latest application of global research, practice and policy in the configuration of health systems, services and processes, with the advance of science and technology, and the creation of the physical architecture, the Congress supports the healthcare design community to stimulate innovation and transformation through a culture of open knowledge sharing and transfer.
In 2023, we encourage research and practice-based abstracts on the role of design and planning in any pertinent themes that define excellence through the prism of resilience, and demonstrate innovation and the application of new ideas on the future of health systems and hospitals that are better connected to our cities and communities.
Download the Call for Papers here, along with the Abstract guidelines. Abstracts should be submitted via the online form on this website by 1 December 2022.