A serial healthcare entrepreneur with a PhD in Engineering Physics, Dr Ali Parsa believes his tech start-up, Babylon, can do for healthcare what Google did for information.
Delivering an inspirational keynote address to delegates at the opening session of European Healthcare Design 2018, in London this week, he demonstrated Babylon's artificial intelligence technology, which he believes is helping beckon in a new era of personalised healthcare – and, importantly, a health service that is accessible and affordable to every person on Earth.
Babylon's AI system has been created by experienced doctors and scientists using the latest advances in deep learning. Available through an ordinary mobile app, it assesses known symptoms and risk factors to provide informed, up-to-date medical information. With existing operations in the UK and Rwanda, plus plans in progress with major providers in China, the USA and the Middle East, Babylon is now home to, perhaps, the largest collection of scientists, clinicians, mathematicians and engineers, recruited from more than 60 different countries.
"All [of today's] connectivity and processing power now allows us to do the kind of maths we could not do before," said Dr Parsa. "In the past, we could only do predictive analytics. Now we can do prescriptive analytics, so we cannot only tell you what is going to happen but we can tell you why it's going to happen, when it's going to happen, and how.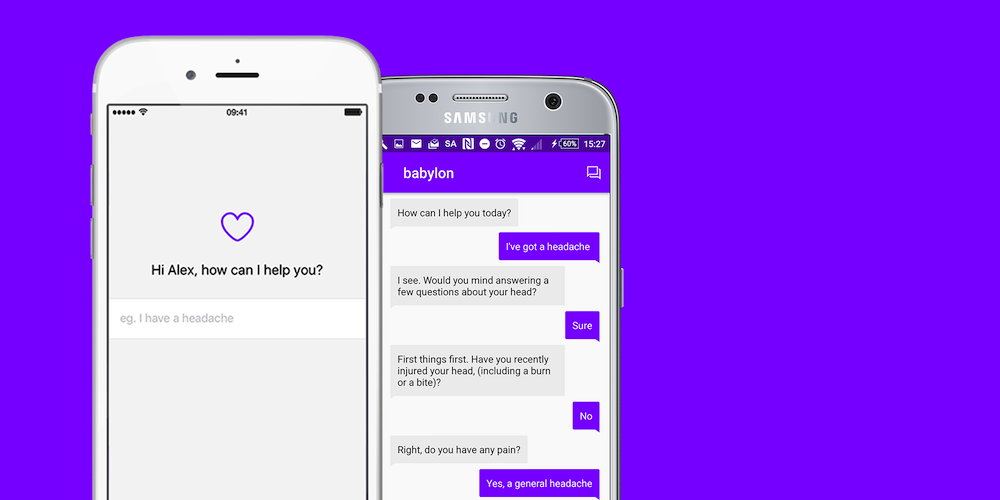 "We've also moved on to do things not only in augmented reality but also in virtual reality, and we can do that through voice."
But, at the heart of Dr Parsa's presentation, lay the following maxim: "It's never what you think is important but it's always about what people need."
And it would seem that this need is very significant indeed. Said Dr Parsa: "The great healthcare system we have today is only used by half the world's population. Five billion people have no access to surgery. . . Imagine the ability to accurately tell people what's wrong with them.
Demonstrating Babylon's technology, he explained how, if necessary, the AI can quickly hook up a user to talk to a doctor, while the machine also listens to the consultation and automatically writes the doctor's notes.
But there's no accessibility without affordability, he stressed, adding: "Most costs in healthcare sit in two buckets. The first is salaries, the second is timing – most diseases, by the time they manifest, a ten-dollar problem has become a 100-dollar solution. So how do you get rid of these two areas of costs in order to make healthcare democratically available to all?"
According to Dr Parsa, the Babylon technology enables three times the service delivery as an ordinary GP can provide for the same amount of money. Not only that, but it can be made available 365 days a year, 24 hours a day, and doctor appointments can be made within minutes.
The big data principles allow every interaction to be added to an ever-increasing knowledge base, allowing the creation of a digital twin for every person who uses the system. Through this twin, everything, including mind, heart, kidney, liver, bones, etc, can be monitored, explained Dr Parsa, "and not just across the biometrics, but across their behaviour, environment and genetics if they give us that data".
He continued: "That will allow us to be able to predict the health much faster than normal. So if I want to know what are my chances of being Type 2 diabetes, and it knows everything about me but doesn't know if my parents are diabetic, I say they are and the machine can calculate my risk in seconds.
The technology can then be used to devise a personal plan, and it can monitor an individual's health status, such as glucose levels for example.
"If we ask about 50-70 questions, we can configure you completely and manage your health almost from scratch," said Dr Parsa. "We can compare you with people like you and ask what is your metal health like, your physical fitness, nutrition, any illnesses, the state of your anatomy. We can do that for free and it doesn't matter if you're in India or the US, we can assess you for 50 different diseases that you might have."
The opportunity for the technology to monitor people on a more social level could also have important health implications, not least in suicide prevention. According to Dr Parsa, there are about 10,000 people in Britain with chronic mental health issues who can often be discouraged from leaving their homes.
"But, if they stay in their homes, they're 80 per cent more likely to commit suicide than if they stay in their homes longer than three days," he explained. "We also know that 15 people in the UK will take their own lives and ten times more may attempt it. We can now see people and monitor them in ways that were never possible before [through this type of technology].
Concluding his talk, Dr Parsa urged delegates to stay positive and optimistic, re-emphasising his belief that the problem of costly, slow or simply inaccessible healthcare is one that can be eradicated – even if new problems are created in the process.