The curtain came down on the European Healthcare Design Congress 2019 yesterday (18 June) in traditional style, with a ceremony to celebrate the winners of the European Healthcare Design Awards.
The Awards shortlist was announced in May, following a hotly contested competition and intensive judging process. It comprised organisations and multidisciplinary project teams, considered by the judges to have achieved shining examples of design projects and innovations in healthcare, and which will help raise the bar in healthcare design and service delivery in Europe and across the globe.
Prizes were given in a number of categories across primary, community, secondary and tertiary levels of international healthcare provision and delivery. The ceremony culminated with the presentation of a special individual honour, the Susan Francis Design Champion Award, named in honour of Architects for Health's late programme director, Susan Francis, who passed away in April 2017 following illness.

The coveted Healthcare Design (over 25,000 sqm) award, sponsored by Guldmann, was won by NewYork-Presbyterian, David H. Koch Center (pictured top right). The US facility was commissioned by NewYork-Presbyterian, and designed by Ballinger, HOK, and Pei Cobb Freed & Partners. It was not the team's only success of the evening, as it also picked up the Design Innovation for Quality Improvement award.
Australia had the most winners on the evening. Kaunitz Yeung Architecture scooped the Healthcare Design (under 25,000 sqm) prize for Punmu and Parnngurr Clinics, in the Western Australian Desert, commissioned by Puntukurnu Aboriginal Medical Service.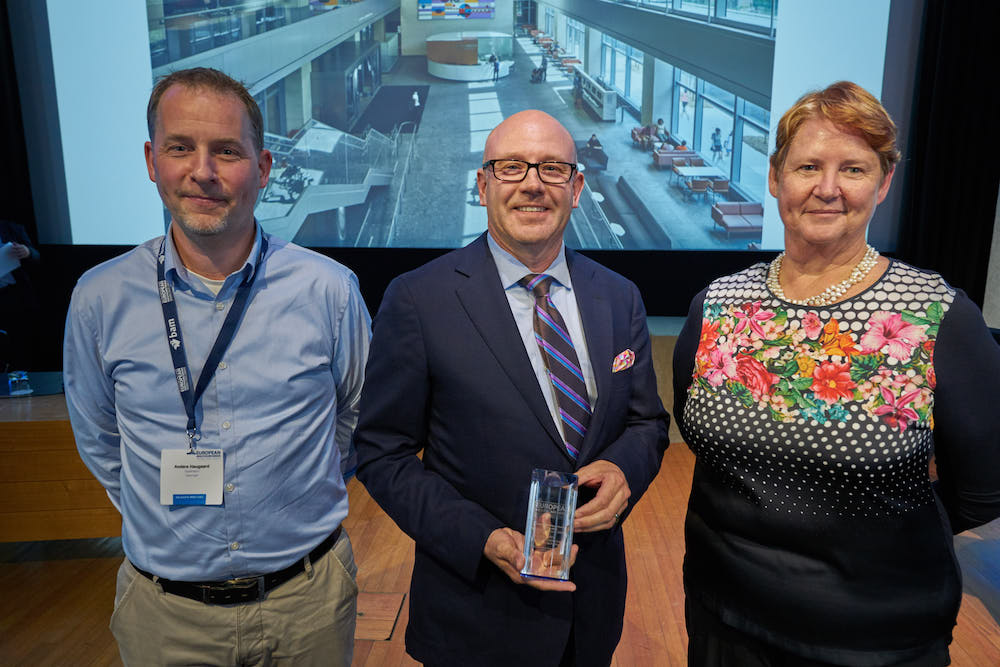 Set in an inner-city suburb of Melbourne, Victoria, Orygen and OYH Parkville won the Mental Health Design category, sponsored by Medical Architecture. Commissioned by the Department of Health and Human Services, the state-of-the-art clinical, research, education and training facility was designed by Billard Leece Partnership.
And the University of South Australia Cancer Research Institute, commissioned by UniSA, and designed by BVN in association with SPA, was successful in the Health and Life Sciences Design category.
White arkitekter topped the Design for Adaptation and Transformation category for its project at Carlanderska Hospital, commissioned by Stiftelsen Carlanderska Hospital; and EGM architects took home the Interior Design and Arts prize for its work at Erasmus MC in Rotterdam, Netherlands.
A multidisciplinary team comprising Arup, Steffian Bradley Architects and John Simpson Architects as designers, Arup as project managers, and Osbornes (Quantity Surveyors) as cost managers, won the Design for Health and Wellness category, sponsored by Hoare Lea. The project team was honoured for its work on the Defence and National Rehabilitation Centre, a clinical rehabilitation centre of excellence commissioned by Black Stork Charity / BS Stanford and based in the East Midlands of England.
Lastly, the Future Healthcare Design prize, sponsored by Integrated Health Projects, was awarded to Munini District Hospital, commissioned by Republic of Rwanda Ministry of Health, and designed by MASS Design Group.
The final award of the evening – the prestigious Susan Francis Design Champion Award – was won by John Cole, an independent client advisor and honorary professor of architecture at Queen's University Belfast (pictured bottom right). John retired in June 2013 from the role of deputy secretary and chief estates officer at the DHSSPS (2008–2013), in the Northern Ireland Executive. He was previously chief executive of the Health Estates Agency (2003–2008). In 2013, the Queen appointed him as a Commander of the British Empire (CBE) for his contribution to the development of health infrastructure.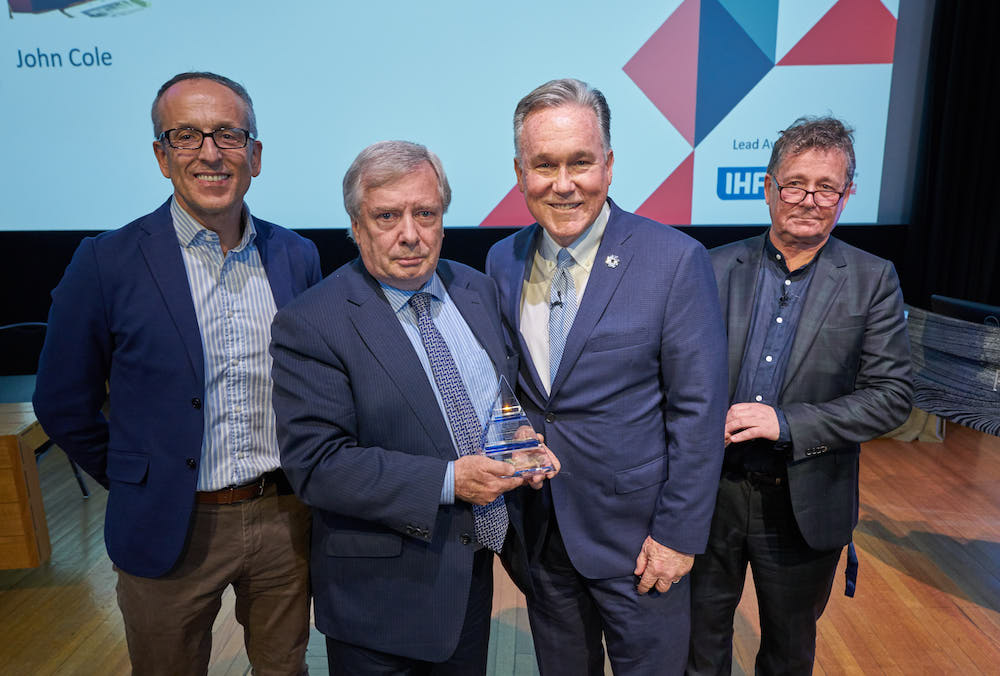 Organisation and support
The European Healthcare Design Awards 2019 – which were kindly sponsored by Integrated Health Projects, a joint venture between Vinci Construction UK and Sir Robert McAlpine – celebrate and recognise professional excellence in the design of healthcare environments both in Europe and around the world. Organised by Architects for Health and SALUS Global Knowledge Exchange, the awards attracted interest from architects, healthcare leaders, academic researchers and innovative solutions providers from all over the globe. They will contribute towards the development of knowledge and standards in the design of healthcare environments around the world.
Full shortlist and judging process
The awards evaluation committee features international researchers, practitioners and policy advisors, who bring specialist multidisciplinary expertise to the specific categories they have been invited to judge. The shortlist and winner of each award are determined by a category chair, supported by two other judges with proven expertise in their field. This robust evaluation methodology ensures a balanced and transparent decision-making process.
The full shortlist of the winners and those highly commended is set out below:
Susan Francis Design Champion Award
Sponsored by Integrated Health Projects
Winner: John Cole
Independent client advisor and honorary professor of architecture at Queen's University Belfast
Healthcare Design (over 25,000 sqm)
Sponsored by Guldmann
Winner: NewYork-Presbyterian, David H. Koch Center, USA
Commissioned by NewYork-Presbyterian
Designed by Ballinger, HOK, Pei Cobb Freed & Partners
Highly commended: Clinical Services Building, Blacktown Hospital, Australia
Commissioned by NSW Health Infrastructure
Designed by Jacobs Architects
Highly commended: Defence and National Rehabilitation Centre, UK
Commissioned by Black Stork Charity / BS Stanford
Designers: Arup, Steffian Bradley Architects and John Simpson Architects; Project managers: Arup; Cost managers: Osbornes (Quantity Surveyors)
Highly commended: Greater Accra Regional Hospital at Ridge, Ghana
Commissioned by Bouygues Bâtiment International
Designed by Perkins+Will
Lead judge: Kate Copeland, Australian Health Design Council, Australia
Panel judges: Tricia Down, Southmead Hospital, UK; Ganesh Suntharalingam, Intensive Care Society, UK
Healthcare Design (under 25,000 sqm)
Winner: Punmu and Parnngurr Clinics, Australia
Commissioned by Puntukurnu Aboriginal Medical Service
Designed by Kaunitz Yeung Architecture
Highly commended: The Christie Proton Beam Therapy Centre, UK
Commissioned by The Christie NHS Foundation Trust
Designed by HKS Architects
Highly commended: Cripps Health Centre, UK
Commissioned by the University of Nottingham and funded by the Cripps Foundation
Architects: CPMG Architects
Engineers: Arup
Project managers: Faithful and Gould
Highly commended: Haraldsplass Hospital – new ward building, Norway
Commissioned by Haraldsplass Diakonale Stiftelse
Designed by C.F. Møller Architects
Lead judge: Liesbeth van Heel, senior policy advisor, Erasmus University Medical Centre, Netherlands
Panel judges: Coen van den Wijngaart, Art & Build, Belgium; Hank Adams, HDR, USA
Mental Health Design
Sponsored by Medical Architecture
Winner: Orygen and OYH Parkville, Australia
Commissioned by Department of Health and Human Services
Designed by Billard Leece Partnership
Highly commended: Mental Health Hospital in Skejby, Denmark
Commissioned by Central Denmark Region
Designed by Arkitema Architects
Highly commended: Wooden Forest, Netherlands
Commissioned by Stichting Ipse de Bruggen
Designed by AM_A Andrea Möhn Architects
Lead judge: Jonathan Erskine, European Health Property Network, UK
Panel judges: Alice Liang, Montgomery Sisam, Canada; Mungo Smith, MAAP, Australia
Interior Design and Arts
Winner: Erasmus MC, Netherlands
Commissioned by Erasmus MC
Designed by EGM architects
Highly commended: The New Children's Hospital, Finland
Commissioned by New Children's Hospital Foundation / Haahtela Project Management
Designed by SARC Architects in collaboration with Architect Group Reino Koivula
Highly commended: St Clair Gardens – Recovery Mental Health Centre for Mind, UK
Commissioned by Coventry & Warwickshire Mind
Designed by IDP
Lead judge: Alexandra Coulter, Arts & Health South West, UK
Panel judges: Vivienne Reiss, arts consultant, UK; Pam Bate, Hopkins Architects, UK
Future Healthcare Design
Sponsored by Integrated Health Projects (IHP)
Winner: Munini District Hospital, Rwanda
Commissioned by Republic of Rwanda Ministry of Health
Designed by MASS Design Group
Highly commended: New North Zealand Hospital, Denmark
Commissioned by Capital Region, New North Zealand Hospital
Designed by Herzog & de Meuron and Vilhelm Lauritzen Architects
Highly commended: Nuuk Psychiatric Clinic, Greenland
Commissioned by Agency for Health and Prevention, Greenlandic Health Department
Designed by White arkitekter
Lead judge: Cliff Harvey, Union of International Architects' Public Health Group, Canada
Panel judges: Paul Bell, Ryder Architecture, UK; Hieronimus Nickl, Nickl & Partner, Germany
Design for Adaptation and Transformation
Winner: Carlanderska Hospital, Sweden
Commissioned by Stiftelsen Carlanderska Hospital
Designed by White arkitekter
Highly commended: Hamad Medical Corporation Medical Education and Simulation Center, Qatar
Commissioned by Hamad Medical Corporation
Designed by Perkins+Will with Dar Al-Handasah
Lead judge: Jim Chapman, Manchester School of Architecture, UK
Panel judges: Chris Shaw, Medical Architecture, UK; Jane McElroy, NBBJ, UK
Design Innovation for Quality Improvement
Winner: NewYork-Presbyterian, David H. Koch Center, USA
Commissioned by NewYork-Presbyterian
Designed by Ballinger, HOK, Pei Cobb Freed & Partners
Highly commended: Vienna North Hospital – Clinic Floridsdorf, Austria
Commissioned by Vienna Hospital Association
Designed by Health Team Albert Wimmer ZT
Lead judge: Jonathan West, Helen Hamlyn Centre for Design, Royal College of Art, UK
Panel judges: Christine Chadwick, GE Healthcare, Canada; Danny Gibson, MJ Medical, UK
Design for Health and Wellness
Sponsored by Hoare Lea
Winner: Defence and National Rehabilitation Centre, UK
Commissioned by Black Stork Charity / BS Stanford
Designers: Arup, Steffian Bradley Architects and John Simpson Architects; Project managers: Arup; Cost managers: Osbornes (Quantity Surveyors)
Highly commended: Punmu and Parnngurr Clinics, Australia
Commissioned by Puntukurnu Aboriginal Medical Service
Designed by Kaunitz Yeung Architecture
Highly commended: Sachibondu Hospital, Zambia
Commissioned by Sachibondu Christian Mission
Designed by Orkidstudio with Structure Mode and HOK
Highly commended: Vienna North Hospital – Clinic Floridsdorf, Austria
Commissioned by Vienna Hospital Association
Designed by Health Team Albert Wimmer ZT
Lead judge: David Powell, Alder Hey Children's Hospital, UK
Panel judges: Helina Kotilainen, architect, Finland; Jonathan Wilson, GB Partnerships, UK
Health and Life Sciences Design
Winner: The University of South Australia Cancer Research Institute, Australia
Commissioned by UniSA
Designed by BVN in association with SPA
Highly commended: Alder Hey Children's Hospital: Institute in the Park, UK
Commissioned by Alder Hey Children's NHS Foundation Trust
Designed by Hopkins Architects
Lead judge: Liz Paslawsky, consultant, SALUS Global Knowledge Exchange, UK
Panel judges: Karin Imoberdorf, Lead Consultants, Switzerland; Tye Farrow, Farrow Partners, Canada