Successive generations have benefitted in extraordinary fashion from the exploitation of the planet's natural resources, but in doing so, future generations' ability to enjoy the same benefits may have been squandered.
In the opening keynote of day two of European Healthcare Design 2019, Sir Andy Haines, from the London School of Hygiene and Tropical Medicine, dissected arguably the most profound challenge of our time: the recognition that there are finite boundaries within which humanity and civilisation can flourish, and the disturbing realisation that those boundaries are in grave danger of being breached.
As chair of the Rockefeller Foundation-Lancet Commission on Planetary Health, Sir Andy played an instrumental role in exploring the scientific basis for creating the new field of study of planetary health – rooted in understanding the interdependencies of human and natural systems – and presenting policy recommendations, with the publication of the commission's report in July 2015.
He explained that since the middle of the last century, average life expectancy globally has increased by about 25 years, along with rapid declines in infant mortality, reduced maternal death rates, and mortality rates for many diseases. At the same time, there has been a decline in extreme poverty.
"But the costs have been borne by Earth's systems," said Sir Andy. "So we've seen an accumulation of carbon dioxide, 20 per cent of which remains in the atmosphere for 1000 years or more. We've exploited the world's land area to grow food for the growing global population, and we've put pollutants into many marine and terrestrial environments, and the air as well.
"So the concern is that these dramatic Earth system changes could halt or undermine the human progress that we've seen. And because of these dramatic transformations of the planetary landscape, we're living, it's believed and widely accepted, in a new geological epoch: the Anthropocene.
We're at a point now that human civilisation and its impact on the planet has accelerated to such a level that the Earth's natural systems on which human health, wellbeing – and perhaps our very survival as a species – depends are now beginning to buckle.
The impact of climate change
According to the Intergovernmental Panel on Climate Change(IPCC), bythe end of the 21stcentury, the global surface temperature change is likely to exceed 1.5OC relative to 1850 in all scenarios of projected human activity.The impacts of climate change on human health are myriad and potentially catastrophic. They range fromsevere weather – which could result in increased injuries, fatalities and mental health impacts– to air pollution – which could lead to a huge rise in the incidence of asthma and cardiovascular disease.Changes in vector ecology could affect the transmission of infectious disease such as malaria, dengue, Lyme disease, and West Nile virus, while water and food supply impacts could result in malnutrition, and increases in diarrheal disease.
The 2003 summer heatwave resulted in about 15,000 excess deaths in France alone, and about 70,000 across Europe, explained Sir Andy, adding that the summer temperatures experienced that year are likely to become the norm for Europe in the coming decades.
Climate change also exacerbates food insecurity in areas currently vulnerable to hunger and under-nutrition. By 2050, it's thought there could be an increase of about 530,000 nutrition-related deaths a year worldwide.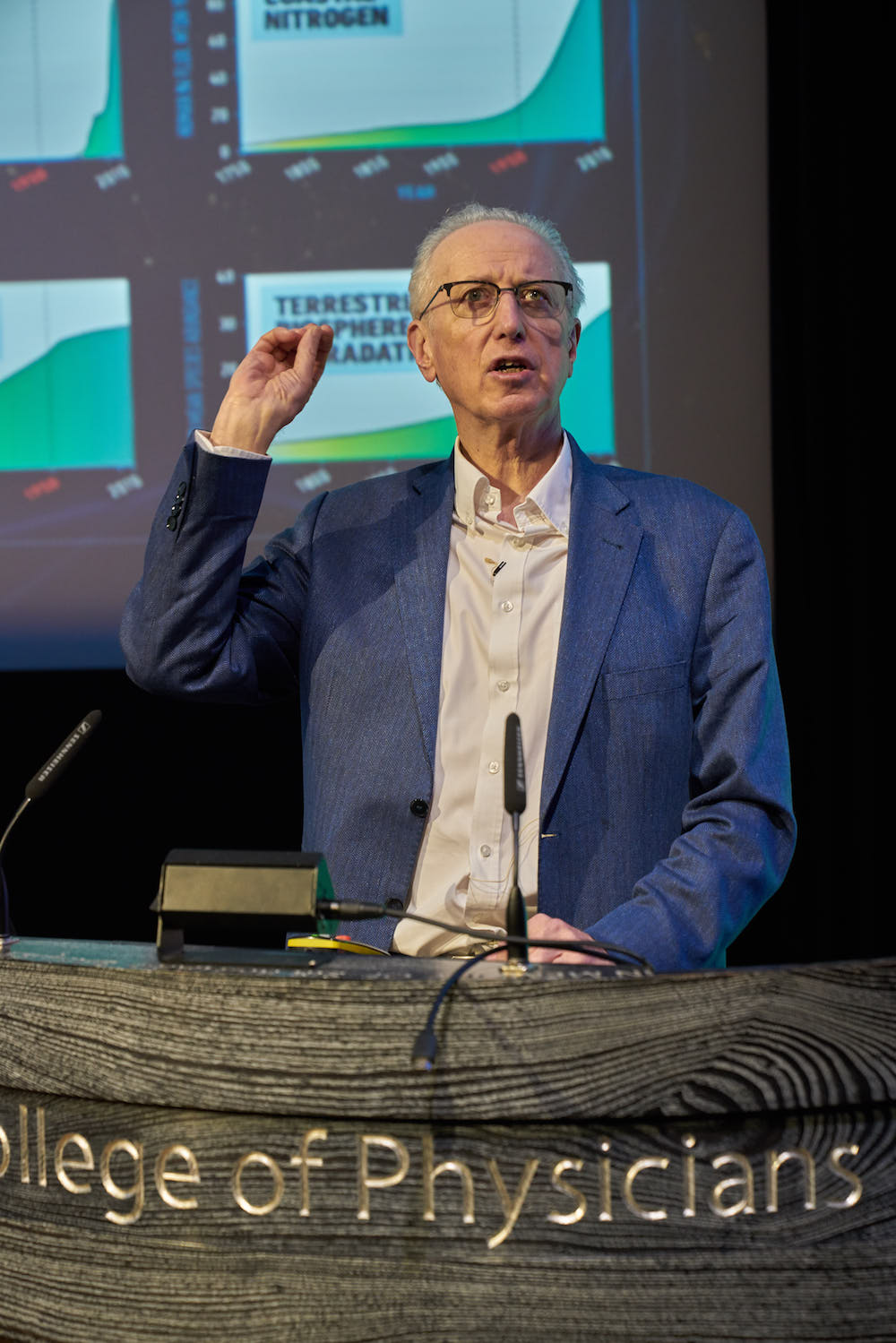 "As you increase the carbon dioxide level in the atmosphere, the level of nutrients declines," said the professor. "Many people in the world suffer from iron and zinc deficiency, and more people are going to suffer from them as the nutrient quality of crops goes down as carbon dioxide levels increase in the atmosphere.
Sir Andy also highlighted an interesting concept called Solastalgia, a term coined by Albrecht and colleagues, who defined it as "the distress caused by environmental change".
"So they said that as people see their familiar environment changing around them, they go through a period of environmental grief," said Sir Andy. "Many studies have also shown that there has been an increase in mental health disorders after floods, and we know that many people (1.4 billion by 2060) could be affected by rising sea levels and increasing rainfall."
Turning his attention to potential solutions, Sir Andy explained that the commission had identified three types of challenges: the conceptual, knowledge, and implementation.
"Often, we don't have the conceptual understanding of some of these complex challenges and how to address them," he said. "And even when we know what to do, we often don't do it."
Adapting to change
Emphasising that the first thing to do is adapt to change, he cautioned adaptations can go wrong. "For example, you may create wetlands to absorb flood waters but that can be home to mosquitoes that can transmit disease," he said. "You may create a biodiversity corridor in a city but if it allows the migration of deer it could lead to the transmission of Lyme disease. So you have to plan your adaptation with health in mind."
The need to move rapidly to renewable energy is an urgent one, said the professor, but there are benefits in doing so. Decarbonising the world economy and phasing out fossil fuels would avoid excess mortality of around 3.5 million people a year in the EU-28.
Increased active travel and low-carbon transport could save the NHS significant amounts in expenditure through the expected reduction in diseases such as diabetes, depression, dementia, heart disease, and others. The mental and physical health benefits from designing in and protecting green space are well documented in scientific research studies, and restoring ecosystems can play an essential role in regulating freshwater quantity and quality, flood protection, and air quality.
More resilient and energy-efficient housing could avert around 5400 premature deaths a year and reduce carbon dioxide emissions, explained Sir Andy, but he warned too that just sealing up homes could increase air pollution, so better insulation must be combined with energy-efficient ventilation systems in order to reduce emissions and improve health.
He referred, as well, to the recent report from the EAT-Lancet Commission, which came up with a planetary health diet aimed at reducing the impact of the food system on the natural landscape, cutting greenhouse gas emissions and water use, and improving health. The diet, it has been suggested, could help prevent about 10-11 million premature deaths by the middle of the century.
For the NHS, the target areas for reducing carbon lies not only in its buildings and energy use but also in its procurement and use of medical equipment, and especially in pharmaceuticals. On a positive note, according to NHS England, greenhouse gas emissions reduced by 11 per cent from 2007 to 2015, despite an 18-per-cent increase in activity.
"We can get to about a 30-per-cent reduction by decarbonising the grid, and a 58-per-cent reduction through interventions such as energy and travel efficiency, new models of care, focus on public health, etc," added Sir Andy.
Summing up, he stressed the urgency to stop our "very wasteful and damaging approaches to development, and create a healthier society, a more sustainable society, and much lower levels of environmental footprint". And he underlined a key conclusion of the Rockefeller Foundation-Lancet Commission's report: "Solutions lie within reach and should be based on the redefinition of prosperity to focus on the enhancement of quality of life and delivery of improved health for all, together with respect for the integrity of natural systems."